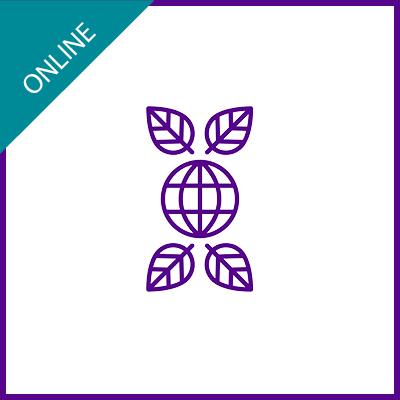 In today's volatile, complex, and uncertain world, it is crucial for businesses to understand key environmental as well as societal risks and opportunities. Both demand successful management by business leaders in order to drive innovation, improve operational efficiency, and create value for their firm and society.

Through video lectures, live online meetups with Professor Tensie Whelan, and a hands-on project, this 14-week course provides participants with the ability to help their business be a force for change through ESG (environment, social, and governance) investing, sustainable supply chain management, employee and consumer engagement, sustainability marketing, and more. With companies facing greater demands for transparency, societal challenges such as poverty and inequity as well as natural resource constraints like less available water and a warmer climate, these skills are critical to the future of business and society. 
Online Learning Experience
Our online certificate courses are asynchronous with optional synchronous elements. Asynchronous activities are things you do independently, like watch videos and complete assignments, and interactions with others over time via email, discussion forums, collaborative documents, and other channels. Synchronous learning includes interacting with other students and faculty in real time. Our courses are designed by educational experts from our Learning Science Lab to deliver courses that are designed with attention to user experience, learning science, and video production to build immersive digital learning environments for business school education.
Software/Technical Requirements
Desktop or laptop computer (This program does not support mobile devices, including tablets and iPads)
A webcam and headset (preferred) or microphone for online meetups
Broadband/high-speed Internet (1.5 Mbps minimum/3 Mbps preferred) to ensure your ability to participate fully in online meetups
Operating System: Mac OS 10.14 or Windows 10 or later
Browser: Safari 14, Chrome 88, Firefox 84, Microsoft Edge 88, or Internet Explorer 11 or later
This course is a non-credit, pass/fail program. To pass this course, you will need a cumulative score of at least 55%. Upon successful completion of this course, participants will receive the NYU Stern Certificate in Corporate Sustainability.


Program Takeaways
During this course, participants will:
Issues and Research

Become familiar with the key environmental and social issues affecting business today including the latest consumer insight research on sustainability.

Transformation of Corporate Response to Sustainability

Understand the evolution of corporate response — from compliance to engagement to innovation — including innovations in finance.

Leadership Skills in a Volatile World

Develop the skills required for leading in the new social and political environment and explore the efficiencies and innovations in development by corporate leaders in pursuit of sustainability.
Who Should Attend
Although there are no formal education or background requirements, this course is designed for participants who meet the criteria below. While we strongly encourage global participation, please note that all courses are taught in English. Proficiency in written and spoken English is required.
Years of Experience

Participants with all levels of work experience are welcome to attend

Job Functions

Ideal for any job function

Prerequisites

Intended for individuals with a genuine interest in corporate sustainability; additionally, students must have a desktop or laptop computer with an internet connection
Agenda
The following agenda is a sample and subject to change.
Course Access
In order to access the course, you will receive login credentials via email on the start date of the course. Activation instructions for your login credentials will be provided.
Readings

Green Giants: How Smart Companies Turn Sustainability into Billion-Dollar Businesses by E. Freya Williams (AMACOM) (available digitally, optional)
Basic Digital NYTimes subscription
Basic WSJ subscription
Live Online Meetups with Faculty
Our live online meetups provide you with the opportunity to engage face-to-face with Professor Whelan. Please note that all online meetups are recorded and available for your viewing at a later time. Missing a meetup will not impact your grade, however we recommend attending all sessions.
Workload
Please expect to invest about 8 to 10 hours of your time per week to course lessons, exercises, and assignments.
Week 1: August 28
Sustainability for Business
Exercise 1: Baseline Summary
Week 2: September 4
Unsustainable Corporate Practices
Exercise 2: Where Do Companies Go Wrong? & Managing for the Long-Term
Week 3: September 11
Environmental and Social Trends
Exercise 3: Environmental and Social Trends
Post to Q&A Forums for Lessons 1, 2, and 3
Live Online Meetup 1: Tuesday, September 12 at 7:30am ET
Week 4: September 18
Sustainability Reporting and Certification Standards
Exercise 4: SASB and GRI Reporting Standards: Differences and Similarities
Week 5: September 25
Materiality and Stakeholder Mapping
Exercise 5: Materiality and Stakeholder Mapping (Create a Stakeholder Map and Materiality Matrix for your Chosen Company)
Complete Peer Review for Exercise 5
Week 6: October 2
Supply Chains
Exercise 6: Supply Chain Management
Post to Q&A Forums for Lessons 4, 5, and 6
Live Online Meetup 2: Tuesday, October 3 at 2pm ET
Week 7: October 9
Systems Thinking & The Circular Economy
Exercise 7: Applying Systems Thinking
Final Project Outline Due: October 15
Week 8: October 16
Innovation
Exercise 8: Lazlo Innovation Scheme
Week 9: October 23
Customers and Sustainability
Exercise 9: Marketing Survey
Complete Peer Review for Exercise 9
Post to Q&A Forums for Lessons 7, 8, and 9
Live Online Meetup 3: Tuesday, October 24 at 2pm ET
Week 10: October 30
Employees and Sustainability
Exercise 10: Sustainable Employment
Week 11: November 6
Building a Business Case for Sustainability
Exercise 11: Monetizing the Sustainability ROI
Post to Q&A Forum for Lessons 10 and 11
Live Online Meetup 4: Monday, November 6 at 2pm ET
Week 12: November 13
Mainstreaming Sustainable Finance
Week 13: November 20
Environmental, Social, & Governance (ESG) Investing
Exercise 13: ESG Investing Equity Analysis
Live Online Meetup 5: Monday, November 20 at 1pm ET
Week 14: November 27
Week 15: December 4
Work on Final Project

Final Project Due: Sunday, December 10
Week 16: December 11
Live Online Meetup 6: Wednesday, December 13 at 3pm ET
Course officially ends: Friday, December 15
Join Our Mailing List
Stay up to date on new courses, special events, free content and more. Enter your email address below to subscribe.